Title
Preview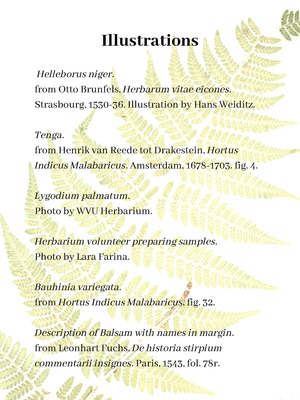 Description
Illustrations
Helleborus niger. from Otto Brunfels, Herbarum vitae eicones. Strasbourg, 1530-36. Illustration by Hans Weiditz.
Tenga. from Henrik van Reede tot Drakestein, Hortus Indicus Malabaricus. Amsterdam, 1678-1703. fig. 4.
Lygodium palmatum. Photo by WVU Herbarium.
Herbarium volunteer preparing samples. Photo by Lara Farina.
Bauhinia variegata. from Hortus Indicus Malabaricus, fig. 32.
Description of Balsam with names in margin. from Leonhart Fuchs, De historia stirpium commentarii insignes. Paris, 1543, fol. 78r.