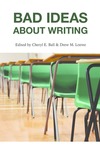 Title
Files
Download Episode 1: Introduction (22.0 MB)
Download Episode 2: Rhetoric is Synonymous with Empty Speech (33.5 MB)
Download Episode 3: American is Facing a Literacy Crisis (29.0 MB)
Download Episode 4: First-Year Composition Prepares Students for Academic Writing (33.3 MB)
Download Episode 5: First-Year Composition Should Be Skipped (37.7 MB)
Download Episode 6: You Can Learn to Write in General (22.2 MB)
Description
Bad Ideas About Writing counters major myths about writing instruction. Inspired by the provocative science- and social-science-focused book This Idea Must Die and written for a general audience, the collection offers opinionated, research-based statements intended to spark debate and to offer a better way of teaching writing. Contributors, as scholars of rhetoric and composition, provide a snapshot of and antidotes to major myths in writing instruction. This collection is published in whole by the Digital Publishing Institute at WVU Libraries and in part by Inside Higher Ed.
Supplemental files feature archived episodes of the Bad Ideas About Writing Podcast, read by Dr. Kyle Stedman of Rockford University.
Publisher
Digital Publishing Institute, West Virginia University Libraries
Keywords
writing instruction, composition, rhetoric
Creative Commons License


This work is licensed under a Creative Commons Attribution 4.0 License.
Disciplines
Rhetoric and Composition
Recommended Citation
Ball, Cheryl E. and Loewe, Drew M., "Bad Ideas About Writing" (2017). Open Access Textbooks. 1.
https://researchrepository.wvu.edu/dpi-textbooks/1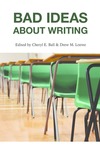 Included in
COinS