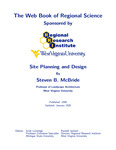 Title
Description
This Web Book discusses land use issues, the design and planning process, design implementation, and environmental implications of planning and design. The major focus of this material is on site- or project-level site planning and design issues. It reviews the traditional planning and design process, including research and analysis, design development, and implementation. Principles of site planning and design are richly illustrated with appropriate graphics that clearly demonstrate the considerations and interrelationships that are required to bring a physical land use development from concept to reality.
Publisher
Regional Research Institute, West Virginia University
Original Publication Information
1999
Recommended Citation
McBride, S.B. (1999). Site Planning and Design. Reprint. Edited by Scott Loveridge and Randall Jackson. WVU Research Repository, 2020.
All Web Book material, including text and graphics, is available to users for personal use and may not be redistributed in whole or in part, in print, online, or on electronic media (e.g., CD). Permission for reprinting images and text from the Web Book of Regional Science must be obtained from the Regional Research Institute to which all users must comply.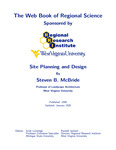 COinS