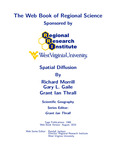 Title
Description
This volume is about how we come to have the culture and ideas we have. Most social and economic change is a direct consequence of the diffusion of some idea or phenomenon. Ideas become diffused through society in a regular manner, and because of this regularity their diffusion can often be analyzed and even predicted. The same analytical framework applied to describe and predict the spread of some cultural or human phenomenon, such as political turmoil, can also be applied to an analysis of the spread of disease. The authors chronicle the evolution of ideas for analyzing, simulating, and forecasting the diffusion of phenomena. The goal is to contribute a synthesis of the roles of time and space, how they interdependently govern the diffusion of phenomena, and how such an understanding could be used to enhance the scientific predictability of diffusion in a wide array of contexts. SCIENTIFIC GEOGRAPHY SERIES, Grant Ian Thrall, editor.
Publisher
Regional Research Institute, West Virginia University
Original Publication Information
1988
Keywords
diffusion analysis framework; scientific predictability of diffusion
Recommended Citation
Morrill, R., Gaile, G.L., & Thrall, G.I. (1988). Spatial Diffusion. Reprint. Edited by Grant Ian Thrall. WVU Research Repository, 2020.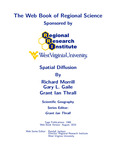 COinS