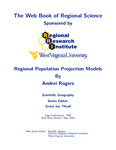 Description
Public and private institutions, organizations, and firms require information on potential demographic futures. Public organizations must anticipate future population needs and thereby judge the need for efforts to alter current population processes and trends. Private firms maximize possible profits by adjusting product lines and shifting distribution networks using information obtained from regional demographic projections. This book demonstrates how researchers can analyze the evolution of multiple regional populations, each interconnected by migration flows. The author adopts a geographical perspective by considering how fertility, mortality, and migration combine to determine the growth, age composition, and spatial distribution of a national multiregional population. This monograph should be of use to those responsible for carrying out regional population projections in public and private organizations such as national, state, and local governments, business firms, foundations, universities, labor unions, social service organizations, and various public interest groups. SCIENTIFIC GEOGRAPHY SERIES, Grant Ian Thrall, editor.
Publisher
Regional Research Institute, West Virginia University
Original Publication Information
1985
Keywords
migration, multiple regional populations, demographic futures
Recommended Citation
Rogers, A. (1985). Regional Population Projections Model. Reprint. Edited by Grant Ian Thrall. WVU Research Repository, 2020.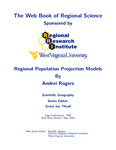 COinS