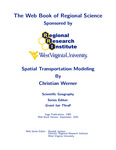 Description
Transportation modeling is both one of the valuable job skills offered by scientific geography and a topic that can serve to develop analytic intuition. This book is designed for the student receiving a first exposure to the transportation problem as well as an introduction to the formal modeling of geographic phenomena. Transportation modeling is a good and particularly useful example of the sharing of paradigms and methodologies between scientific geography and other sciences. Professor Christian Werner's geographical approach should be of particular interest to students and followers of the literature not only in human geography but also in operations research, transportation engineering, urban and regional economics, regional science, city and regional planning, and management science. SCIENTIFIC GEOGRAPHY SERIES, Grant Ian Thrall, editor.
Publisher
Regional Research Institute, West Virginia University
Original Publication Information
1985
Keywords
Transportation modeling, scientific geography, methodologies
Recommended Citation
Werner, C. (1985). Spatial Transportation Modeling. Reprint. Edited by Grant Ian Thrall. WVU Research Repository, 2020.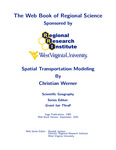 COinS