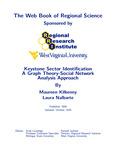 Description
This Web Book presents a new a method for identifying keystone sectors in communities, where sectors are broadly defined to include churches, clubs, associations, and public institutions as well as firms and businesses. In an arch, the keystone is the one with the unique wedge shape at the top of the arch that is critical for the arch's structural stability. While all other stones in an arch substitute for one another and can be removed (in pairs), the arch will fall apart if the keystone is lacking. The term keystone species was first coined by ecologists in the late 1960s with respect to the species uniquely responsible for the structure and integrity of an ecosystem. We now coin the term for use in community development analysis. In a community, the keystone sector is one that plays a unique role, without which the community is fundamentally and detrimentally altered.
Publisher
Regional Research Institute, West Virginia University
Original Publication Information
2000
Keywords
Keystone sectors, keystone species, community development analysis
Recommended Citation
Kilkenny, M., & Nalbarte, L. (2000). Keystone Sector Identification: A Graph Theory-Social Network Analysis Approach. Reprint. Edited by Scott Loveridge and Randall Jackson. WVU Research Repository, 2020.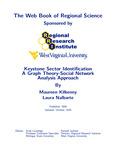 COinS