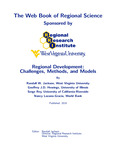 Description
This Web Book reviews the challenges that the consideration of regions brings into economic analysis and provide an overview of some of the key methods and tools that can be used to gain a better understanding of how regional economies work, and through that, identify both the challenges and opportunities that they face. The exploration of these challenges begins with some consideration of the ways in which regional economies work to set the stage for subsequent sections that summarize a toolbox of methods and strategies that might be considered for evaluation of regional development initiatives. In contrast to past reviews of this field, this report presents an integration of more traditional regional macroeconomic modeling with new developments in spatial data analysis.
Publisher
Regional Research Institute, West Virginia University
Original Publication Information
2019
Keywords
regional economies
Recommended Citation
Jackson, R.W., Hewings, G.J.D., Rey S., & Lozano-Gracio, N. (2019). Regional Development: Challenges, Methods, and Models. WVU Research Repository, 2020.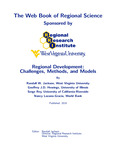 COinS