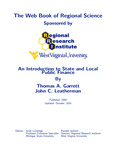 Description
Public finance is the field of economics that studies government activities and the various means of financing these activities. In general, public finance deals with any of the three levels of government: federal, state, and local. While the basic theories of public finance apply regardless of the level of government studied, state and local public finance has emerged as an important sub-field of public finance in recent years.
Publisher
Regional Research Institute, West Virginia University
Original Publication Information
2000
Keywords
Public finance, government activities, state finance, local finance
Recommended Citation
Garrett, T.A., & Leatherman J.C. (2000). An Introduction to State and Local Public Finance. Reprint. Edited by Scott Loveridge and Randall Jackson. WVU Research Repository, 2020.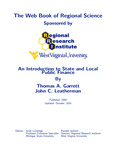 COinS