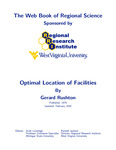 Description
This text is written for undergraduate students. It is derived from class notes developed for a senior-level course in the Department of Geography at The University of Iowa called The Location of Services. It uses several of the computer programs listed and documented in the companion monograph, "Computer Programs for Location-Allocation Problems." The purpose of the course, and much of this book, is to show that the location pattern of any activity influences the quality and quantity of services received and that methodologies exist to evaluate the locational effectiveness of any location pattern, to determine improvements that can be made and to compute location patterns that are optimum with respect to defined criteria.
Publisher
Regional Research Institute, West Virginia University
Original Publication Information
1979
Keywords
Undergraduate text, quality of services, quantity of services, location allocation
Recommended Citation
Rushton, G. (1979). Optimal Location of Facilities. Reprint. Edited by Randall Jackson. WVU Research Repository, 2020.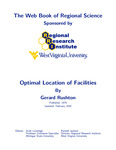 COinS