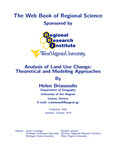 Description
This Web Book provides information on basic concepts and trends in land use change, and then reviews the state of the art in land use theory and empirical modeling. It concludes by summarizing the main issues pertaining to theories and models of land use change, discusses selected issues in of a more general concern in the context of the analysis of land use change and outlines future research directions.
Publisher
Regional Research Institute, West Virginia University
Recommended Citation
Briassoulis, H. (2020). Analysis of Land Use Change: Theoretical and Modeling Approaches. 2nd edn. Edited by Scott Loveridge and Randall Jackson. WVU Research Repository, 2020.
All Web Book material, including text and graphics, is available to users for personal use and may not be redistributed in whole or in part, in print, online, or on electronic media (e.g., CD). Permission for reprinting images and text from the Web Book of Regional Science must be obtained from the Regional Research Institute to which all users must comply.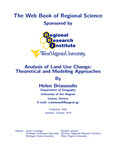 COinS