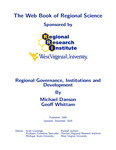 Description
Across the world, the regional level is becoming increasingly important in economic development with a proliferation of regionally based initiatives. This has important consequences for how institutional capacity is able to take and influence decisions with regard to the long-term future development of particular localities: in short the patterns of regional governance. This book focuses on two relevant aspects: (i) the question of governance - how does the ongoing process of institution-building affect the ways in which the regions and localities are governed, including questions of democracy, participation, regional self-determination, public-private partnerships and accountability; and (ii) what are the consequences of new modes of governance and institutional change for regional development strategies and policies, particularly in the context of large-scale industrial restructuring and city-region and urban regeneration.
Publisher
Regional Research Institute, West Virginia University
Original Publication Information
1999
Keywords
regionally based initiatives, governance, institutional change
Recommended Citation
Danson, M., & Wittam, G. (1999). Regional Governance, Institutions and Development. Reprint. Edited by Scott Loveridge and Randall Jackson. WVU Research Repository, 2020.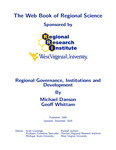 COinS