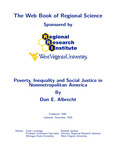 Description
This Web Book addresses the topics of poverty, inequality, and social justice in nonmetropolitan counties in the United States. The job structure of nonmetro communities is significantly different from the job structure in metro communities. Further, nonmetro communities face unique obstacles in implementing programs to reduce poverty. The book provides an overview of trends in and the correlates of poverty. Some of the major theoretical efforts to understand poverty are examined along with societal trends likely to impact levels of poverty and inequality in the future. The book concludes suggestions for nonmetropolitan community leaders and practitioners for dealing with poverty.
Publisher
Regional Research Institute, West Virginia University
Original Publication Information
1999
Keywords
nonmetro communities, job structures, poverty, societal trends
Recommended Citation
Albrecht, Don E. (1999). Poverty, Inequality and Social Justice in Nonmetropolitan America. Reprint. Edited by Scott Loveridge and Randall Jackson. WVU Research Repository, 2020.
All Web Book material, including text and graphics, is available to users for personal use and may not be redistributed in whole or in part, in print, online, or on electronic media (e.g., CD). Permission for reprinting images and text from the Web Book of Regional Science must be obtained from the Regional Research Institute to which all users must comply.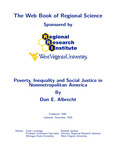 COinS