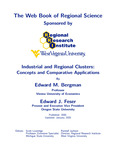 Description
Industry clusters refer to the tight connections that bind certain firms and industries together in various aspects of common behavior, e.g., geographic location, sources of innovation, shared suppliers and factors of production, and so forth. Industry cluster concepts date from the last century, but they have captured the imagination of active policymakers and the serious attention of scholars only in the last decade of this century. Because clustering behavior is such a pervasive aspect of modern economies and global trade, it draws the attention of many different disciplines and benefits from their scholarship. Although a consideration of research on this topic might alone justify book-length treatment, industry cluster concepts are also powerful metaphors that are used routinely to guide industrial and regional development planning throughout the world.
Publisher
Regional Research Institute, West Virginia University
Original Publication Information
1999
Keywords
Industry Clusters, Competitive Advantage, Meso Industry Cluster Analysis
Recommended Citation
Bergman, E.M., & Feser, E.J. (1999). Industrial and Regional Clusters: Concepts and Comparative Applications. Reprint. Edited by Scott Loveridge and Randall Jackson. WVU Research Repository, 2020.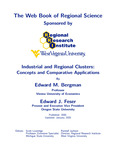 COinS