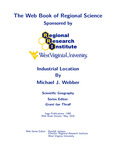 Title
Description
In this book, Professor Michael Webber analyzes the strategy and pattern of the location of industrial production. After reviewing data sources and the history of manufacturing, Professor Webber discusses the principles that govern the location decisions of firms. It should be of particular interest to students of public policy analysis to read Webber's arguments supporting the contention that industrial location incentives and tax policies have not been significant long-term factors of industrial location; rather, Professor Webber demonstrates that as transport costs have fallen, the main location factors have become labor and agglomeration. In turn, both labor and agglomeration are themselves dependent upon the general economic, political, and social system. Webber uses numerous data illustrations to support the theoretical arguments in this book. He concludes with three examples that illustrate his industrial location analysis: (l) the aircraft parts industry in New England; (2) the industrial decline in the United Kingdom; and (3) the location pattern of manufacturing within cities. The stress that Professor Webber places on the historical context of decisions and on the social production of labor and agglomeration characteristics are novel issues for an introductory treatment of location theory. -Grant Ian Thrall, SCIENTIFIC GEOGRAPHY SERIES Webber, Michael J. Industrial Location. Web Book of Regional Science. Regional Research Institute, West Virginia University. Edited by Grant Ian Thrall, 1985; Randall Jackson, 2020.
Publisher
Regional Research Institute, West Virginia University
Original Publication Information
1985
Keywords
Industrial location, industrial location incentives, tax policies, labor, agglomeration
Recommended Citation
Webber, M.J. (1985). Industrial Location. Reprint. Edited by Grant Ian Thrall. WVU Research Repository, 2020.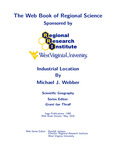 COinS