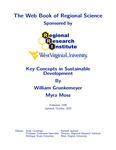 Description
The question we are concerned with in this document is whether sustainable development can be a community wide priority and behavior that expands, and perhaps even at times replaces, existing priorities and behaviors. The materials contained in this document are intended to help both those entering the sustainability discussion and those with a rich history of implementing sustainable activities to consider ways traditional development leadership can be integrated into current sustainable development efforts. Included in our effort to encourage this integration is a history of the sustainable development concept, a review and discussion regarding the actual definition of sustainability, a search and explanation regarding various organizations involved in the sustainability question, a comparison of sustainable development to traditional development philosophy.
Publisher
Regional Research Institute, West Virginia University
Original Publication Information
1999
Keywords
sustainable development, sustainability, community development
Recommended Citation
Grunkemeyer, W. & Moss, M. (1999). Key Concepts in Sustainable Development. Reprint. Edited by Scott Loveridge and Randall Jackson. WVU Research Repository, 2020.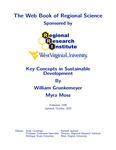 COinS